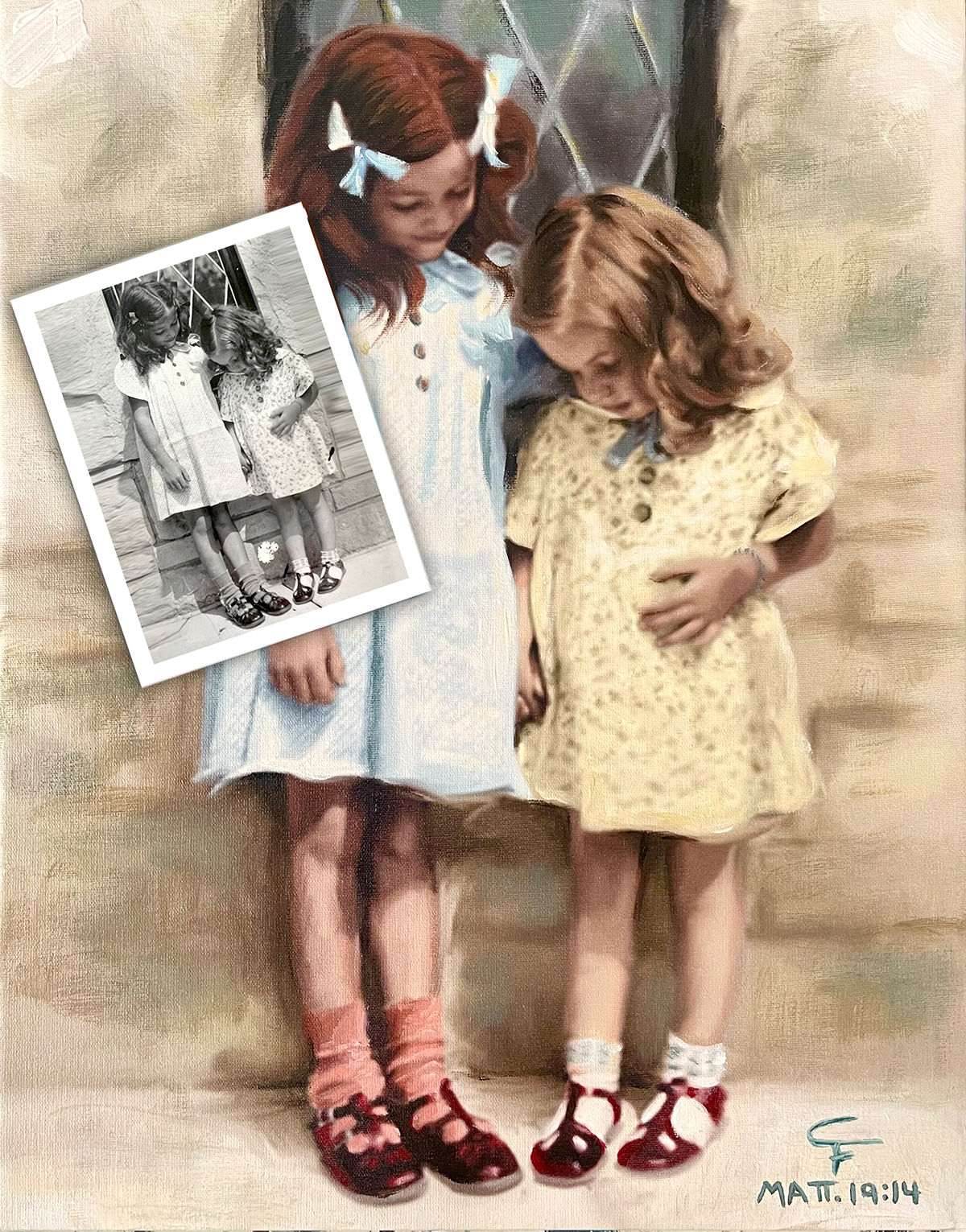 This was a really fun portrait. My client contacted me wanting her old black and white photo of her Mom and Aunt looking at their new red shoes, turned into a color painting. She provided me with the original black and white photo to work from.
From there, she also provided a more recent color photo of both her mom and her aunt for me to pull skin color and hair color from. I went to work creating a digital proof for her to approved before putting it on canvas. We went back and forth to make sure all the color was just right. Once approved it was put on canvas and painted. The finished look really made her photo come to life!
What is the process to do a Mix Media Portrait with Carol Ferguson Art?
Go to my Etsy account https://www.etsy.com/shop/BrinkPortraits To make your order. Select the perfect size and price for your custom painted portrait. Once you make your order you will then message me a couple photos (message me through etsy), we will decide on THE one. I will then digitally paint your portrait from your photo and message you a proof. We can go back and forth on any changes until you love it! Your approve digital portrait will be printed on a stretched canvas and I will hand paint over it with acrylic paints for a one of a kind, jump of the canvas, beautiful look, that you will love! Your finished painting will be on a stretch canvas, with UV coating, and ready to hang. I will then ship your painting to the address you provide on your order for shipping. I love doing these Mix Media Digital Portraits! It is so much fun to me and each portrait is so special and a unique peace of art that I hope you will love for a life time!
When placing an order for your Mix Media Digital Painted Portrait:
– Please send one or more HIGH quality photos and specify your favorite. The higher the quality image the better, but if you have one you LOVE that is low resolution, send it and I'll see if I can use it.
– Any specials instructions or the preferred background color if different from your photos.
– I also love to dedicate each portrait or painting with a bible verse under my signature. You can see my pictured samples for how this looks. If you do NOT wish to have a verse just leave "Your Personalization" part blank.
Please take note: My current turnaround time is 3-4 weeks. This can depend on your response time to the proofs as well.
The Shipping time can range from just a couple of days. **Please note due to the current global health crisis, order delivery times may be slower than usual.